Grandparents
Elizabeth Taylor 1818-?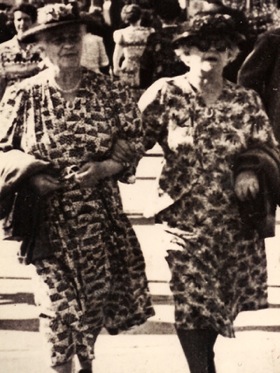 Mary (right) with sister Adelaide Yarrow (née Bishop).
Mary Ann Bishop
1876-1959
Mary Ann Bishop was the ninth of the fifteen children of James Simpson Bishop and his wife Ann Bowers of Wicken, although she was born in Burwell, Cambridgeshire, along with several of her siblings (her Grandmother was living in Burwell at the time, so this probably explains the connection).
As was popular for women and girls named 'Mary Ann', she took on the name 'Polly' but it is not clear as to when she began using this name.
When Mary was thirteen years old, her mother died, leaving the family of fifteen children (the youngest being no more than two years old) in the charge of her widower James - a labourer, and her mother's childless sister Sarah and husband George Farby.
By 1891, Mary had gone to work as a domestic servant for the Gautrey family of Cottenham. It was in this village that she was to stay, as she married John 'Jack' Rayment. The couple had at least three children - one daughter and two sons - although the youngest son died as a Prisoner of War in 1916 due to dystentery, malnutrition and brutal conditions.
It appears that Mary died in the June quarter of 1959.
Further Details
Born:
1876, Burwell, Cambridgeshire.
Married:
John Rayment (abt 1878-19??)
Children
Florence May Rayment (1895-?)
Henry John Rayment (1897-?)
Arthur William Rayment (1898-1916)
Frederick Joshop Rayment (1908-?)
Percy James Rayment (1909-?)
Census
1881: 5yrs, High Street, Wicken, Cambridgeshire.
1891: 15yrs, Beach Road, Cottenham, Cambridgeshire.
1901: 25yrs, Little End, Cottenham, Cambridgeshire.
1911: 35yrs, Little End, Cottenham, Cambridgeshire.
Died:
June quarter of 1959, Cambridgeshire.
Buried:
Unknown (although probably Cottenham).