Grandparents
unknown Bowers
Elizabeth Bird 1780-?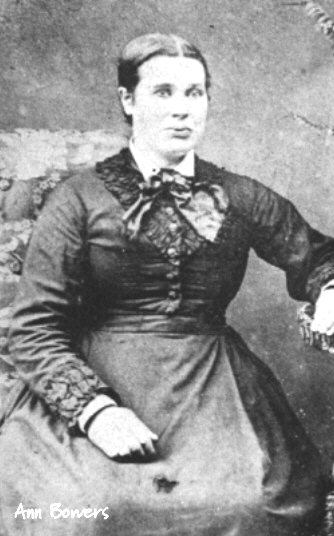 Ann Bishop (née Bowers).
Ann Bowers
1843-1889
Ann Bowers was the seventh of the eight children of Henry Bowers (1812-1847) and his wife Ann Bailey (1811-1897).
She was born in Wicken and married James Simpson Bishop (1842-1901), a labourer of Wicken. The couple went on to have eighteen known children.
Ann is noted as a 'coprolite labourer' at the time of the 1871 census, although seeing as she was almost continuously pregnant, would have meant it was probably a short-lived career.
When the youngest of her children was just 2 years old, Ann died from Pneumonia, leaving the large young family in the care of her widower James. Her sister, Sarah, was present at her death.
Ann left a personal estate of £60 in her will to her husband.
After Ann's death, her older and childless sister, Sarah (who was married to George Farby of Little Thetford) stepped in to helped look after the children and earned herself the affectionate name of "Granny Farby" and continued to look after her niece's and nephew's children as well.
Further Details
Born:
1843, Wicken, Cambridgeshire.
Baptised:
8th July 1855, aged 12 years at Wicken, Cambridgeshire.
Married:
Children:
Ann Elizabeth Bishop (1861-?) married William Jarman (1860-?)
Henry Bishop (1863-?)
Emily Bishop (1864-?)
Louisa Bishop (1865-?)
James Simson Bishop (1866)
James Simpson Bishop (1868-?)
Ann Bishop (1870-1931) married John Canham (1870-?)
Eliza Bishop (1871-1872)
Kezia Bishop (1872-1965) married Howarth Ellis (1868-1947)
Eliza Bishop (1873-?) married Thomas Cross (1872-?)
Harriet Bishop (1873-1900) married Horace Gateson (1873-1949)
Sarah Ann Bishop (1875-?)
Mary Ann Bishop (1876-1959) married John Rayment (1878-?)
William Joseph Bishop (1879-?)
Robert Maurice Bishop (1880-1971) married Dorcas Hawes (1882-1949)
George Bishop (1885)
George Juble Bishop (1887-?)
Census:
1851: 8yrs, Bedlham Yard, Wicken, Cambridgeshire, England.
1861: 18yrs, The Black Cottage, Fordham, Cambridgeshire, England.
1871: 27yrs, Beerway, Wicken, Cambridgeshire, England.
1881: 37yrs, High Street, Wicken, Cambridgeshire, England.
Died:
5th March 1889 at Little Thetford, Cambridgeshire, aged 45 years.
Buried:
8th March 1889, Little Thetford, Cambridgeshire, England.
Further Reading