Grandparents
illegitimate line
illegitimate line
William Clarke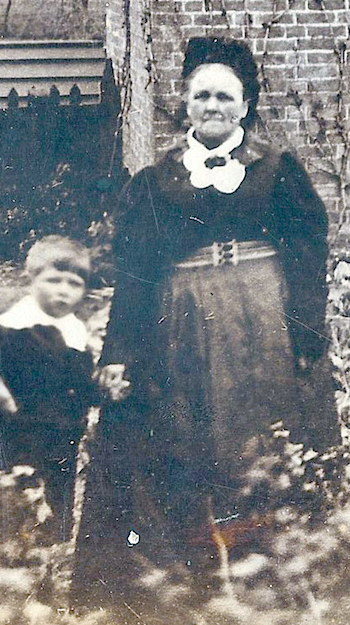 Caroline Coe (formerly Howlett, née Clark)
Caroline Clarke
1835-1917
Caroline Clark was the illegitimate daughter of Miss. Mary Clarke of Botesdale, Suffolk.
By the time of the 1841 census, she was living with her brother, Edward/Edmund, her step-father William Bailey and her step-siblings. Her mother was absent - serving a six month hard labour sentence at Ipswich County Gaol for cruelty and mistreatment of William Bailey's children from his first marriage.
Ten years later, she appears as a House Servant to Henry Flanders of Mildenhall Road, Littleport but her surname is given as 'Caroline Bailey'.
In 1855 she was living in Mildenhall and married Thomas Howlett. At the wedding, she gave the name 'Alfred Woods, deceased' as her father but I have been unable to locate an Alfred Woods who died between 1833 and 1855, who might have been her father.
After marrying Thomas in 1855, she gave birth to their only child and two years later she found herself as a widow at the age of 24yrs with a 2yr old daughter. Fortunately, she married Robert Coe the following year and the couple - who didn't extend their family - went to live at 'Feet Bank', Downham (1871) and later at 'Bates Drove' (1891), Littleport.
In 1891 and in 1881, she gave her place of birth as 'Watchfield, Norfolk'. Prior to this in 1871, it's just noted as 'Suffolk' and in 1861 (where the Coe surname appears as 'Cole'), it is given as 'Backthen, Norfolk'. Caroline was born in Wattisfield - a parish in Suffolk near to Botesdale.
Caroline outlived her first husband by 60 years; and her daughter and her son-in-law by months.
Further Details
Born:
15th February 1835, Wattisfield, Suffolk.
Baptised:
26th July 1835, Suffolk - again, either Botesdale or Wattisfield - to be confirmed).
Married:
Children
Census
1841: 6yrs, Back Hills, Botesdale, Suffolk, England.
1851: 17yrs, Mildenhall Road, Littleport, Cambridgeshire, England.
1861: 25yrs, Burnt Chimney Drove, Littleport, Cambridgeshire, England.
1871: 35yrs, 100 Foot Bank, Little Downham, Cambridgeshire, England.
1881: 47yrs, Burnt Chimney Drove, Littleport, Cambridgeshire, England.
1891: 57yrs, Bates Drove, Littleport, Cambridgeshire, England.
1901: 63yrs, Littleport, Cambridgeshire, England.
1911: 77yrs, Littleport, Cambridgeshire, England.
Died:
21st June 1917, at Burnt Chimney Drove, Littleport in Cambridgeshire, aged 83 years, in the presence of Mary Gilbert.
Cause of Death:
1. Old Age, 2. Exhaustion. Certified by Frank W. Mawby
Buried:
Presumably at Littleport, Cambridgeshire.