Parents

Thomas Howard

1839-?

Mary Ann

surname unknown 1839-?
Grandparents
unknown Howard
not known
not known
not known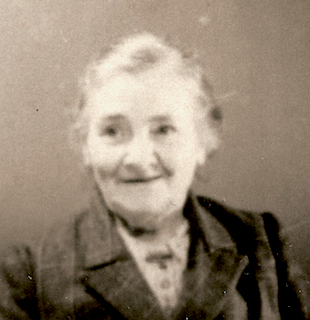 Amy Ann Yarrow (née Howard).
Amy Ann

Howard


1872-1946

Amy Ann Howard was the seventh of the ten children of Little Thetford farmer Thomas Howard, and his Canadian wife Mary Ann.

Amy married grocer John Willam Yarrow ('Jack'), and the couple set up home in Dover, Kent, England, where they went on to have at least nine children.

Amy's older sister, Esther, also married into the Yarrow family - marrying Jack's cousin, Frederick Owen Yarrow.

Amy predeceased her husband by about nine years.
Further Details
Born:
1872, Cambridgeshire, England.
Married:
Children:
Lois Mary Yarrow

(1900-1993) married

Harry Catt

(?-1965)

Albert John Yarrow

(1904-1981) married

Rose Joyner

(1904-1993)

Frederick William Yarrow

(1906-1978) married

Gladys Mabel Askew

(1906-1975)

Thomas Howard Yarrow

(1909-1986) married unknown and

Grace

George Francis Yarrow

(1911-1996) married

Gladys Mary Skinner

James Yarrow

(1914-1983) married

Audrey Catt

Esther Yarrow

(1916-1979) married

Frederick James Thomas
Census
1881: 9yrs,

Brick Kiln Farm, Ely, Cambridgeshire, England

.
1891: 19yrs,

Brick Kiln, Ely, Cambridgeshire, England

.
1901: 28yrs,

21 Windermere Terrace, Buckland St Andrew, Dover, Kent, England

.
1911: 38yrs,

9 Buckland Avenue, Dover, Kent, England

.
Died:
July 1946 in Dover, Kent, England.
Buried:
presumably at St. Mary's church in Dover, Kent, England.