Coveney and Ely branch
Haddenham and Wentworth branch
The
Moden

family of Cambridgeshire

There are two Moden families in my ancestry but the name itself appears in other trees too. The two branches appear in Coveney (from which one of my Gt. Grandmothers descended) and Wentworth (from which one of my Gt. Gt. Gt. Grandmothers descended), Cambridgeshire, although the Wentworth branch is known to originate in nearby Haddenham. I am yet to connect the two branches although they lived only a few miles away from each other.

The Moden family seem to be often intertwined with the Dewey family and this has occurred on at least three occasions so far.
Coveney, Cambridgeshire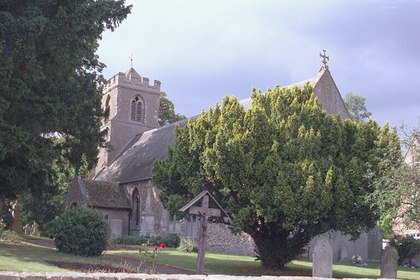 Coveney Parish Church, Cambridgeshire.
The Coveney branch's earliest record is of my Gt.x5 Grandfather, Edward Moden who married Margaret Nicholas at the parish church (pictured) in 1792. Edward died in 1797 and Margaret went on to remarry.
I have only managed to find one record of a child (there may have been more) from their brief marriage - my Gt.x4 Grandfather - William Moden baptised in 1796.
William appears later on as a farmer of 9 acres, with his wife Rebecca in Coveney with five of his children in 1851 and two of his children on the 1861 Census.
By 1891, the Moden family had disappeared from Coveney but my own ancestral branch was living and working in Ely which was more than likely down to the marriage between widow Mary Ann Moden (née Freeman) who had been married to Edward Moden (1828-1867), to David Seymour. He took the family to Ely and it is here that my closest Moden relatives remain today.
Haddenham and Wentworth, Cambridgeshire
The Haddenham and Wentworth branch of the family married into my Boulter family from Wentworth. At roughly the same time, they also married into my Dewey family, but not ancestrally. The Wentworth branch is a relatively recent line of research although I had made contact with a descendant of the Haddenham branch (where these Wentworth Modens originate) many years ago. At the time, i had no suspicion of them connecting to the Boulter family via Mary Ann Moden or Wentworth. It would seem that i underestimated my Moden's desire for travel! However, no connection has been made between the Haddenham/Wentworth family and that of the Coveney/Ely branch.
Further Information