Generation #11
James Gilbert 16??-1694
Joan unknown
Generation #10
Thomas Gilbert 1670-?
Benjamin Gilbert 16??-?
Mary Gilbert 1682-?
Jane Gilbert 1686-?
James Gilbert 16??-?
John Gilbert 16??-?
Generation #9
James Gilbert 1693-16??
Jane Gilbert 1693-?
John Gilbert 1695-?
Martha Gilbert 1699-?
Ann Gilbert 1701-?
Thomas Gilbert 1705-?
Wyant Gilbert 17??-1735
Nathaniel Gilbert 1715-?
Generation #8
Elizabeth Gilbert 1726-?
James Gilbert 1728-1778
Mary Gilbert 1731-?
Jane Gilbert 1734-?
Sarah Gilbert 1741-?
Generation #7
John Gilbert 1770-?
George Gilbert 1772-1773
Mary Gilbert 1776-1777
James Gilbert 1778-?
Generation #6
Sarah Gilbert 1795-?
George Gilbert 1797-?
Mary Gilbert 1799-?
Elizabeth Gilbert 1802-?
Ellen Gilbert 1808-?
Eliza Gilbert 1809-?
John Gilbert 1813-?
Frances Gilbert 1818-18??
Frances Gilbert 1834-?
Generation #5
Jane Gilbert 1828-?
Sarah Gilbert 1830-?
Joseph Gilbert 1833-1833
Elizabeth Gilbert 1836-1849
Mary Gilbert 1841-?
William Gilbert 1844-1852
Martha Gilbert 1846-?
Elizabeth Gilbert 1850-?
Susan Gilbert 1852-?
William Gilbert 1855-1856
Generation #4
Caroline Gilbert 1878-?
Mary Gilbert 1879-?
William Gilbert 1880-?
Hannah Gilbert 1881-1883
Ellen Gilbert 1883-?
Florence Emily Gilbert 1887-1887
Elizabeth Emily Gilbert 1888-?
Amelia Gilbert 1892-1969
The
Gilbert

family of Huntingdonshire and Cambridgeshire

The Gilbert family begin appearing in the parish church and taxation records of Abbotsley, Huntingdonshire (as it was), England, in 1694. They moved from Abbotsley (church pictured), Huntingdonshire to Littleport in approximately 1841 to Burnt Chimney Drove, Littleport which is where the modern Gilbert descendants still farm the land today.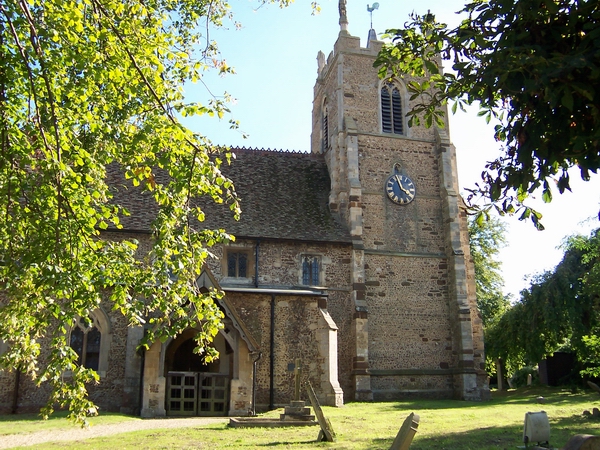 St. Margaret's Church, Abbotsley, Huntingdonshire (now in Cambridgeshire).
On the 1851 census, my Gtx4 Grandparents - Edward Gilbert b. 1774, Abbotsley, and his wife Susan Gillings (sometimes named Gillions) b. 1771, Wrestlingworth, Bedfordshire, were lodging with Thomas Cade of Abbotsley. They were both noted as paupers and Susan is also noted as being blind.
At that time my Gtx3 Grandparents - William Gilbert b. 1807, Abbotsley, and his wife Elizabeth Brightle b. 1806, Camps, Littleport, were living at Burnt Chimney Drove as farmers having had twelve children. Their only surviving son was my Gt. Gt. Grandfather - James Gilbert b. 1849, Littleport and it was he who inherited the Gilbert's farm.
My own link to this family was through my Gt. Grandmother. Her name was Clara Emma Gilbert b. 1884, Littleport, and was one of the nine children of James Gilbert and his wife Elizabeth Howlett b. 1856. Clara married Alfred Newman, my Gt. Grandfather, b.1883, Ely, and they moved to Waterside in Ely which is where they lived until their deaths.
The careful research of distant cousin, Colin Tabeart and the kindness of my Grandmother's cousin - the late Luther Gilbert of Littleport, has supplied me with many of the details displayed on this site for this family.
Family Gallery
Further Information