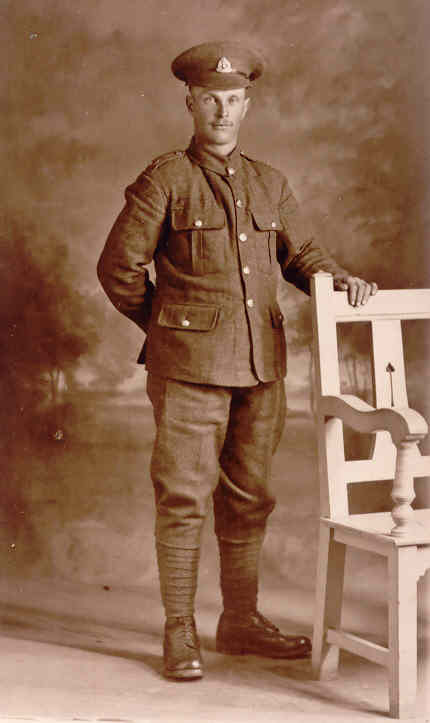 Herbert Martin.
Herbert

Martin


1884-1917

Herbert Martin was the sixth of the twelve children of James Martin and his wife Sarah Elizabeth Giddings of Little Downham and Pymoor, Cambridgeshire. Herbert was my Great Grandfather and he married Daisy Burnell (1886-1952) of Littleport, Cambridgeshire and fathered four sons.

Herbert owned a Horse and Cart which features on the main Martin page with his parents and was used by "Taylors" the Bakery after his death, to deliver bread around the fenland.

Herbert enlisted as a Private of the 7th Battalion of The Northamptonshire Regiment but was tragically killed on his way home at the end of the First World War in a train accident in France. His name is featured on the Little Downham war memorial and was until recently also on a stone in the cemetery, along with his sister Emma and her husband John William Goodge.

Herbert is named in the Cambridge Regiment's instalment in St. George's Chapel in Ely Cathedral, where it lists the names of the brave who died during the two world wars.

His death left widow Daisy with four children, the oldest being 7 years. She later went on to marry Reuben Shelton and have a further three children.

Herbert and Daisy appear in 1910 and 1911 in the baptism register of a Wesleyan Methodist Chapel with two of their sons. During this time, they are noted as living in 4th Drove, Little Downham.
Further Details
Born:
1st May 1884, Little Downham Fen, Cambridgeshire, England.
Married:
Children:
Sydney James Martin

(1910-1977) married

Mima Sparrow

(19??-?)

Herbert George Martin

(1911-1985) married

Ada Murfitt

and

Olive Eunice Payton

Percy Martin

(1914-1991) married

Edna Olga Newman

(1916-1986) and

Irene Pearson

(1920-?)

Cyril William Martin

(1916-2006) married

Margaret Barrett

.
Census
1891: 6yrs,

Railway House, A Furlong, Little Downham, Cambridgeshire, England

.
1901: 16yrs,

A Furlong, Little Downham, Cambridgeshire, England

.
1911: 26yrs,

Fourth Drove, Little Downham, Cambridgeshire, England

.
Died:
17th October 1917, France, in a train accident on his way home from the First World War.
Buried:
Boulogne Eastern Cemetery, Pas de Calais, France.
Commemorated
Little Downham War Memorial, Little Downham, Cambridgeshire, England.
St. George's Chapel, Ely Cathedral, Ely, Cambridgeshire, England.
A stone bearing his name stood until recently in Little Downham cemetery. It also stood as a memorial to his sister and brother-in-law, Emma and John William Goodge - all of whom died in 1917.
Further Information