Grandparents
Elizabeth Wright 17??-?
Mary Beasley 1777-1815
Thomas Yarrow
1832-1914
Thomas Yarrow was the second child of publican and farmer, John Yarrow and his first wife Ann (née Whiten).
After appearing with his siblings and parents on the censuses for 1841 and 1851, Thomas leaves England in 1854 having signed up, and travels to Bengal to join the forces fighting in The Indian Mutiny. Here is noted as a Sargeant of the 35th Foot (Royal Sussex) regiment and received the Indian Mutiny Medal during his service.
Thomas married widow Catherine O'Keefe (née Lambert) from Ireland whilst in Bengal in 1863.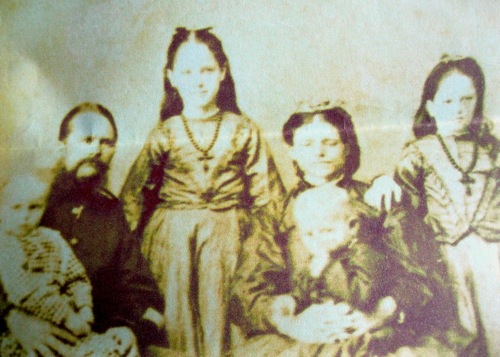 Above: Thomas Yarrow (2nd from left) with his wife Catherine (4th from left). Catherine's daughter from her first marriage stands between them, third from left.
The couple settle down to have at least six, if not eight children, but sadly not all of them survive into adulthood.
In March 1875, after 20 years of service, Thomas leaves the service of the 107th Foot regiment (soldier number 2809).
By 1881, Thomas and his wife have returned to England and live in Bethnal Green, London. The family are joined by Catherine's daughter (also Catherine) from her first marriage - who is noted as having been born in the 'East Indies' and had adopted the Yarrow surname for this census. The third oldest child, Frances Maud, is noted as being born in about 1877 in Downham, Cambridgeshire and therefore the family must have been back in England for a few years. The fourth child of the household, John Yarrow, is noted as having been born in 1880 in Bethnal Green.
By the time of the 1891 census, Thomas is living alone with his youngest son John. Catherine had died and they are living in Leopold Buildings - a block of densely populated tenement flats. Just 20 years earlier, Bethnal Green was the poorest parish in the whole of London - conditions must have been harsh.
Thomas remarried by 1901 to a woman called Edith who is much younger than himself, and they appear in 1901 in Soho, London. Thomas also outlived his second wife.
Further Details
Born:
1832 at Little Thetford, Cambridgeshire.
Baptism:
7th October 1832, Little Thetford, Cambridgeshire.
Married:
Catherine Lambert (1840-1888) during 1863 in Bengal, India.
Edith Emily Rawlings (1872-1907) during December 1895 in Westminster, London, England.
Children:
John N Yarrow (1865-?)
Thomas C Yarrow (1867-?)
Etheldreda Elizabeth Maria Ann Yarrow (1867-?)
Albert O Yarrow (1870-?)
Maria Anne Yarrow (1872-?)
Elizabeth Frances Maude Yarrow (1874-?)
Frances Maud Yarrow (1877-?)
John Yarrow (1879-?) married Emma Ann Slade (c.1880-?)
Census:
1841: 8yrs, Little Thetford, Cambridgeshire, England.
1851: 18yrs, The Wheat Sheaf, Little Thetford, Cambridgeshire, England.
1881: 46yrs, 6 Georgina Gardens, Columbia Road, Hackney, London, England.
1891: 54yrs, 19 Leopold Buildings, Bethnal Green, London, England.
1901, 65yrs, 235 Newport Dwellings, St Anne, Soho, London, England.
1911: 76yrs, 8 Marine View, Forton, Gosport, Hampshire, England.
Died:
1914 in Alverstoke, Gosport, Hampshire, aged about 82 years.
Buried:
unknown.