Mary Ann Cross
1870-1953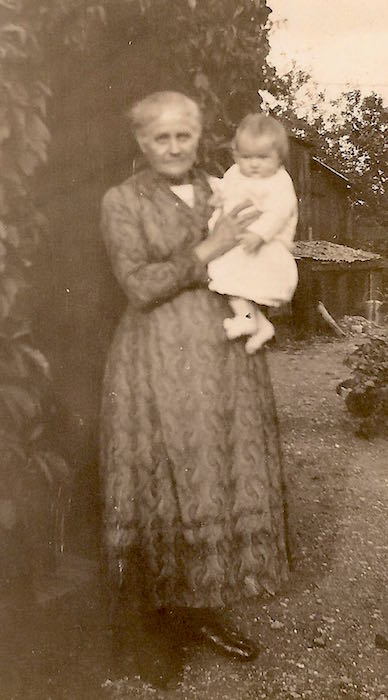 Mary Ann Moden (née Cross)
Mary Ann Cross was one of the two known children of George Cross and Sabina Steadman ("Vine") Taylor of Ely, Cambridgeshire. She was born on Bugs Hill (a popular name for Cambridge Road) in Ely, Cambridgeshire.
After marrying my Great Great Grandfather, Edward Moden, a horse keeper, the couple lived in Barton Road where they had seven children. Mary and Edward named my Great Grandmother after Mary's deceased infant sister - Susan, who in turn was named after her Grandmother, Susan Taylor.
Sadly, two of their children did not survive infancy - Grace and Edward. The latter of these, their oldest son and the bearer of the traditional 'Edward Moden' name, lived for just 4 hours as a premature baby. Siblings and descendents did not appear to know of this child and he was only recently discovered in 2004, 110yrs after his brief life ended.
In 1898, Mary's father died. He had been the landlord of 'The Eagle and Lamb' pub on Cambridge Road, Ely. Her mother took over as landlady and on the 1901 census, Edward and Mary Ann Moden can be found living nextdoor with three of their daughters.
Mary Ann opened a shop on the corner of Barton Road and Cambridge Road and worked there for nearly 40 years with the help of her daughters, Mary, Grace, Vine and Susan. The shop closed down in the mid 1980's, no longer being in the ownership of the family and was converted into a house.
Further Details
Born:
20th July 1870 on Buggs Hill (Cambridge Road), Ely in Cambridgeshire, England.
Baptised:
14th August 1870 at St. Mary's Church, Ely, Cambridgeshire, England.
Married:
Children:
Mary Ann Moden (1890-1970) married Jonathan Adair Tingey (1893-1969)
Grace Elizabeth Moden (1891-1892)
Vine Elizabeth Moden (1893-1980) married Frederick H. H. Newell (1900-1961)
Died:
8th November 1953, Ely, Cambridgeshire, England.
Buried:
with her daughter Grace Violet Moden, in Ely Cemetery, Cambridgeshire, England.