John

Boulter


(1873-1955)

John Boulter (also known as John Dewey) was the illegitimate and oldest child of dairymaid and seamstress Elizabeth Boulter of the fenland village of Wentworth in Cambridgeshire, England.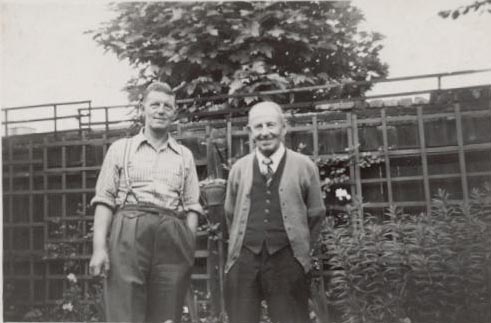 When he was five years old, his mother married John Freeman Dewey of nearby Witchford. Initially, John's illegitimacy, which carried a huge social stigma for mother and child, was hidden. In some censuses he appears as John Dewey, and in 1896 he wrote 'John Boulter - deceased' as his father in the marriage register.
By 1891, John has moved to London, and appears on the census as a 'horsekeeper', boarding at the house of Thomas Dunham - also a horsekeeper and from Witchford, Cambridgeshire.
John married Alice Watts of Westminster, London, and the couple settled down to have a family of an eventual eleven children in Camberwell. This family consisted of nine sons and two daughters, although according to the 1911 census, two of their seven children by this time - John David and Percy, had both died in infancy.
John is still noted as a 'horsekeeper' on the 1911 census, but he actually worked for The Corporation of London as a Groom and would often ride First Postilion on the Lord Mayor of London's coach during the annual Lord Mayor's show.
John enlisted in the Army Service Corps on 21st September 1914 at the age of 40yrs, and spent time in France between 1914 and 1916. His army papers of 1914 note him as being 5 feet 4 inches tall, with brown eyes.
Alice pre-deceased John in 1950 by 5 years, having out-lived four of his children.
Life Events
Born
8th May 1873

at

Wentworth

,

Cambridgeshire

,

England

.
Baptised
15th June 1873 at St. Peter's Church, Wentworth, Cambridgeshire, England.
Married
Alice Watts

(1878-1950) on 2nd August 1896 at St. Mary The Less Church, Princes Road, Lambeth, London, England.
Children
John David Boulter

(1897)

John Thomas Boulter

(1898-1974)

Edward Mafeking Boulter

(1900-1990) married

Maude Evelyn Danes

(1902-1991)

Ernest George Boulter

(1903-1957)

Arthur Robert Boulter

(1905-1925)

Sidney William Boulter

(1908-1984) married

Edith Marion Green

(1908-1987)

Percy Boulter

(1909-1910)

Horace Boulter

(1911-1914)

Ethel Elizabeth Boulter

(1913-?)

Elsie Winifred Boulter

(1918-?)

Dennis Bert Boulter

(1921-2010)
Census and Residence
1881: 7yrs,

Witchford

,

Cambridgeshire

,

England

.
1891: 18yrs,

15 Remmington Street

,

St. Luke's

,

London

,

England

.
1901: 27yrs,

133 Victoria Road

,

Camberwell

,

London

,

England

.
1911: 35yrs,

29 Bellenden Road

,

Peckham

,

London

,

England

.
Employment
1891:

Horsekeeper

1901:

Groom

for

The Corporation of London

1911:

Horsekeeper
Military History
1914:

Private

(#RTS2057) for

Army Service Corps
Death
During

1955

in the

Camberwell

district of

London

,

England

.
Burial