Useful resources for Family History Research
Over the years, my research has been helped by many online resources. This includes the usual big brands in genealogy, but also includes the more niche sources of information - the surname study, the village archive, the county archive, and fellow family historians like me.
Here's a list of some of the family research resources that have helped and inspired me in my research, or who I feel will be helpful in yours.
WWI and WWII relatives
Here's my list of relatives who I have identified as having served in The First World War and The Second World War, along with some helpful websites to continue your own research through.
Record Offices and Archives
Whilst it can be easier and more convenient to research your family history via online websites, there's nothing quite like physically visiting an archive or records office. Not only do you tend to find a much broader range of sources, but also really specific niche ones that larger websites wouldn't find worthwhile to scan. You can sometimes also sometimes find physical objects, and locally published books. All this is backed up by a huge wealth of knowledge about the local area from highly experienced staff.
Local Village websites
There's a wide range of Cambridgeshire village and town websites that have proven useful to my research. These include:
The Ely Census of 1861
In researching in Ely, Cambridgeshire, you'll find that the 1861 is mostly missing. Here's why.
Other useful history websites
My family history research has led me to learn about all kinds of topics - illegitimacy, cholera, workhouses, and non-conformist religions. This has led me to various websites that have helped me understand the lives of my ancestors. Here's a few that have helped me with my research:
Genealogists
I've yet to use a professional genealogist in my research, but I have met many who provide this service as their daily job. These include the following who are experts based within the Cambridgeshire area, and who I have met and spoken to many times, and I am confident that they can provide you with a professional, reputable, and thoroughly researched paid-for service. Both are qualified AGRA members, which acts as a mark of confidence in their abilities and methods of research.
Family History Podcasts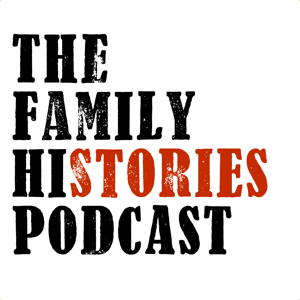 I've tried out several podcasts over the years, but it's been somewhat tough to find one that I enjoy and find relevant to my family history because my research is contained within the UK, and hyperlocal at that. With this in mind, I began my own called The Family Histories Podcast in spring of 2021.
Aside from that, the one podcast that I have stuck with over the years, has been the brilliant Genealogy Gems podcast from Lisa Louise Cooke. Despite Lisa being based in Texas, USA, her show looks at researching in the UK and other countries as well, and includes some great techniques that help you try new ways of accessing information or new sources. Her shows have inspired me through the years, and I've been pleased to meet Lisa a couple of times at the Who Do You Think You Are? Live shows too.
Several years in to my listening, I realised by coincidence, that her husband's Cooke family has roots just 3 miles from my home!
Photo Restoration
I can get by with doing some minor edits to photographs that allow me to edit colour, contrast, and a few minor blemish removals, but sometimes I've just not been able to correct a photo well enough. I did put one of my battered and torn photos to a professional - Nick at Pick Nick Photo Restoration Services based here in the UK - it was super-easy to do (no need to mail originals away), and it came back looking perfect - and in a condition that I'd never seen it in before. If you're looking to have your old pictures repaired, then do let him quote you.
Disclaimer
I'm not responsible for the content on these third-party sites, and therefore accept no liability for your usage of them, the accuracy of the information they contain, or the quality of the services that they provide. None of these links have incentivised me to appear here. Enjoy!