Ernest Edward Thomas Dewey
(1896-1991)
Ernest Edward Thomas Dewey was the youngest of the nine children of John Freeman Dewey and his wife Elizabeth Boulter of Witchford, Cambridgeshire, England.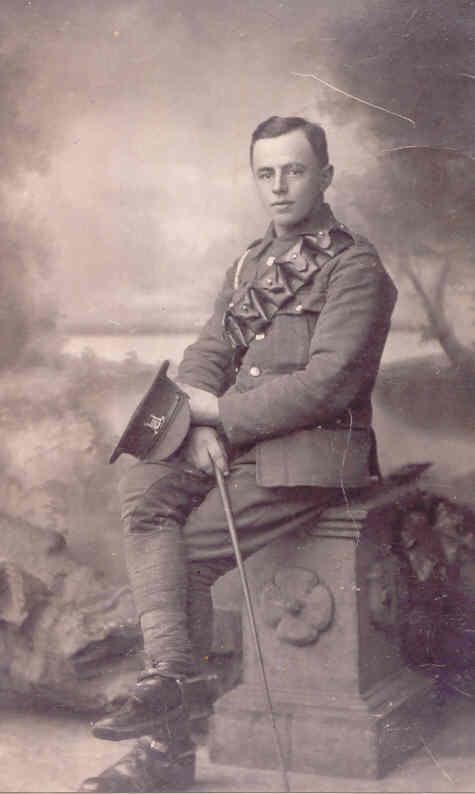 Like many of his age, Ernest enlisted with The Suffolk Yeomanry, and as a Private with The Suffolk Regiment when the First World War broke out. He saw active service and travelled to France, spent two years in Egypt, fought at Gallipoli, and in the the Salonika Campaign in Greece.
Having survived fighting in WWI, he eventually married Susan Jane Moden of Ely, after what had been an eleven year courtship, sparked after they'd met at the Suffolk Yeomanry whilst she was working in munitions, and then later the WRAF.
Ernest and Susan had four sons , and when their second son was born in 1932, they informally allowed Susan's childless sister, Vine Elizabeth Moden and her husband Frederick Herbert Henry Newell to raise him as if he was their own.
Ernest worked in agriculture for 43 years as an Agricultural Labourer, the last 25 years were worked at Hillrow, Haddenham, Cambridgeshire, England.
During March 1947, like many in their area, the family home at Haddenham was overwhelmed by floodwater and mud when the fenland was severely flooded. Ernest and Susan received food aid from the Red Cross.
In 1975, Ernest and Susan celebrated their Golden Wedding Anniversary, and were treated to a surprise party at Witchford, held for them by over 60 family members and friends, including one of their two bridesmaids (Ernest's niece), Gladys Anderson.
Despite Ernest's longevity, three of his sons predeceased him: Gordon in 1954, Frederick in 1979, and John just weeks before his own death in 1991.
Life Events
Born:
23rd April 1896 at Witchford, Cambridgeshire, England.
Baptised:
5th July 1896 at the Primitive Methodist Chapel, Ely, Cambridgeshire, England.
Married:
Children:
John Edward Dewey (1931-1991)
Frederick Francis Dewey (1932-1979)
[PRIVATE]
Gordon Dewey (1934-1954)
Census and Residence
1901: 4yrs, Main Street, Witchford, Cambridgeshire, England.
1911: 14yrs, Witchford, Cambridgeshire, England.
1975: 79yrs, 66 High Street, Wilburton, Cambridgeshire, England.
Employment
1911: Learning Gardening
1919-1935: Agricultural Labourer
1936-1961: Agricultural Labourer at Hillrow for Dennis & Sons Ltd
Military History
WWI: Private (#40176) - The Suffolk Regiment
WWI: Private (#20115) - The Royal Minster Fusiliers
WWI: Private (#20919) - The Royal Irish Regiment
Death
9th February 1991 at Tower Hospital, Ely, Cambridgeshire, England, aged 94 years.
Burial
February 1991 with his wife Susan, and their youngest son Gordon, at Haddenham Cemetery, Haddenham, Cambridgeshire, England.