Wrestlingworth

, Bedfordshire

Wrestlingworth sits in the green fields of east Bedfordshire in the United Kingdom, and situated about 15 miles east of the city of Bedford, close to the borders of Hertfordshire and Cambridgeshire.

At the start of the 19th century, Wrestlingworth is noted as having a population of 330 persons (1801). By the middle of the 19th century, the village is noted as having a mixed National School for 135 children, and by the end of that century, the village had a post office (1890), and a population of 638 (1881). The population of the village is now believed to be around 850 people.
Wrestlingworth in the 18th Century
The village was home to a couple of my paternal families; namely the Miller family from about 1731, and then the Gillings family from about 1763.
The earliest known ancestor being in Wrestlingworth is my 6x Great Grandfather John Miller, who would have been born circa 1710, but whilst it's unclear where he was born, he and his wife Susan, bring their daughter Elizabeth Miller to be baptised at St. Peter's Church in 1731. Sadly, like her immediate sister Ann Miller, she'd fail to survive her infancy.
John and Susan continued having children whilst in the village, with the baptism register recording their only son Richard Miller in 1735, and my 5x Great Grandmother Elizabeth Miller in 1741.
Researching family history in Wrestlingworth
Several headstones still stand in St. Peter's churchyard, although none of these appear to be for my Miller or Gillings ancestors - these grieving families were probably too poor to afford both them and provide food for their surviving families. The parish burial records confirm the burials of many of my relatives here.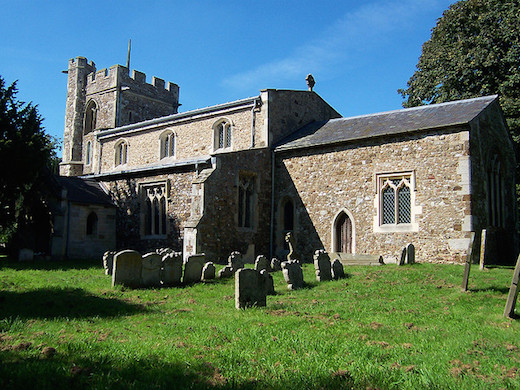 Like the bulk of the parish records for Bedfordshire, Wrestlingworth's parish and census records are stored at the Bedfordshire Archives and Records Service, which includes a searchable online catalogue to help you identify whether they are holding the records you need prior to visiting. Records can also be found online, and there are also transcripts of the parish records which are available for purchase from the Bedfordshire Family History Society.
There are also a number of history societies in Bedfordshire, including the Wrestlingworth History Society.
Other ancestral places nearby