Louisa Barber
(1881-1974)
Louisa Barber (later Louisa Hopkin and Louisa Pope) was the fifth of the ten children of shepherd Reuben Barber and his wife Elizabeth Dewsbury of Witchford, Cambridgeshire, England.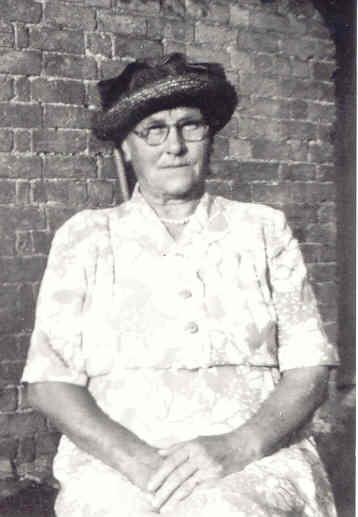 She was born and schooled at Welney, Norfolk, right on the border with Cambridgeshire, and eventually went to work as a Servant in Witchford, Cambridgeshire, for the Hopkin household.
In 1902 she gave birth to her first child, Ernest, outside of marriage. Speculation towards the father of Ernest points to family rumour of a 'Policeman from Littleport' to Flanders Hopkin. According to Louisa's granddaughter, Mr Hopkin was the father, but Louisa's mother would not initially allow her to marry such an older man.
Either way, a year later she went on to marry Flanders Hopkin (of the household to which she was a servant) who was 27 years her senior. The couple had four children before Flanders died in 1910, leaving Louisa as a young widow with five young children to care for.
Four years later she re-married, this time to labourer John Pope, and together they had two further children - sadly the first died at birth after being strangled by the umbilical cord during birth. There are no official records known to support this, as stillborn births and deaths were not recorded until England and Wales introduced the Births and Deaths Registrations Act (1926). However, she remained in oral family history for seventy-six years before her younger sister Audrey, born the following year, learnt of her older namesake as a result of this family tree research.
Louisa was employed during the summer as a Fruit Picker in the orchards of Witchford. In 1961, together with her married daughter Audrey, she appeared in her local newspaper picking fruit despite being 80 years old.
Life Events
Born
23rd June 1881 at Welney, Norfolk, England.
Baptised
Married
Children
Phillis Effie Hopkin (1903-1985) married George Burrell (1901-1986)
Flanders Hopkin (1904-1995) married Lillian Blanche Wilson (1902-1983), and later to Edna Irene Hotchkiss (1912-1991)
Walter Hopkin (1906-1987) married Eleanor Maud Sizer (1905-1982)
Richard Sidney Hopkin (1909-1974) married Dorothy May Lockwood (1910-2005)
Audrey Pope (1919)
Audrey Sybil Pope (1920-2002) married Arthur William Giddens (1917-1986)
Census and Residence
1891: 9yrs, Townsend, Southery, Norfolk, England.
1901: 19yrs, Main Street, Witchford, Cambridgeshire, England.
1911: 30yrs, Witchford, Cambridgeshire, England.
1920-1974: 239 Main Street, Witchford, Cambridgeshire, England.
Employment
1911: Fruit Picker and Charing
1961: Fruit Picker for Dan Ward (Farmer)
Death
28th January 1974 at her home at 239 Main Street, Witchford, Cambridgeshire, England.
Burial
January 1974 with her second husband John Pope, at St. Andrew's Churchyard, Witchford, Cambridgeshire, England.