Nellie

Barber


(1884-1974)

Nellie Barber (later Nellie Mussett) was the sixth of the ten children of shepherd Reuben Barber and his wife Elizabeth Dewsbury of Witchford, Cambridgeshire, England.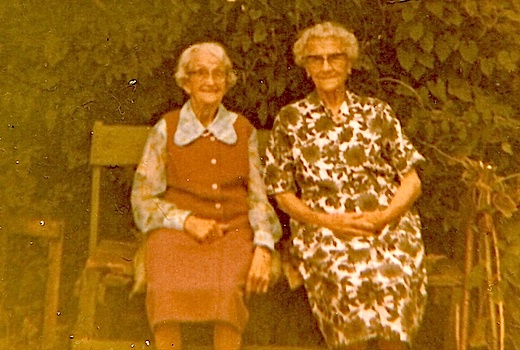 In 1901, when Nellie was approximately 17 years old, she went to work as a Servant for John Benson, a confectioner and baker, on Forehill, Ely, Cambridgeshire.
By 1911, she appears as a servant at 7 Rollscourt Avenue in Herne Hill in Lambeth (in Surrey, as it was then), at the house of Charles Payne, a 'manufacturer's agent', along with his wife Ada and their six children.
Nellie returns to Witchford in 1914, where she is noted as a witness to the marriage of her sister Louisa Barber, and would walk the aisle herself in 1918.
She married Sonny Mussett, and the couple settled in Galleywood near Chelmsford in Essex, and raised two daughters.
Sonny pre-deceased Nellie by nine years, and she died aged 90 in 1974.
Life Events
Born
21st March 1884

at

Barway

,

Cambridgeshire

,

England

.
Baptised
Married
Sonny Mussett

(1882-1965) on 18th September 1918 at St. Andrew's Church, Witchford, Cambridgeshire, England.
Children
Elsie Daphne Mussett

(1920-1990) married

Kenneth J Hackett

(19??-?), and later to

Joseph E S Garrett

(19??-?)

Pamela D Mussett

(1922-) married

Christopher Edward Saltmarsh

(1915-1945), and later to

Charles W Girling

(19??-?)
Census and Residence
1891: 7yrs,

Townsend

,

Southery

,

Norfolk

,

England

.
1901: 17yrs,

Forehill

,

Ely

,

Cambridgeshire

,

England

.
1911: 27yrs,

7 Rollscourt Avenue

,

Herne Hill

,

Lambeth

,

London

,

England

.
1939:

Olleys Cottage

,

Galleywood

,

Essex

,

England

.
Employment
1901:

General Servant

for

John Benson (Confectioner and Baker)

1911:

Servant

for

Charles Payne (Manufacturer's Agent)
Death
Circa

May 1974

in the

Maldon

district of

Essex

,

England

, aged 90 years.
Burial
At St. Michael and All Angels, Galleywood, Essex, England.