Laura

Dewsbury


(1885-1972)

Laura Dewsbury (later Laura Yarrow) was the sixth of the eleven children of Henry James Dewsbury and his wife Mahala Randall who ran the chain ferry across the River Ouse at Barway, Cambridgeshire, England.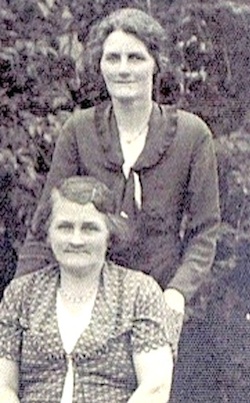 Whilst Laura was living at home with her parents and siblings during the 1891 census, by the time of the 1901 census, and aged 15yrs, she was living in Friern Barnet, Middlesex where she was working as a 'General Servant' to a 29 year old accountant called Richard H Beecher and his family.
Returning to Cambridgeshire by 1905, Laura was baptised aged 20 years just 2 months before she married Owen Yarrow - perhaps it was a condition of using the parish church?
The couple are believed to have had several children, but sadly some of them did not survive infancy. There are certainly a few infant burials in Little Thetford around the time of Laura's surviving children but only the purchase of birth and death certificates will prove the parentage of these children.
By 1911, Laura and Owen were living with one of their children in the Round House in Little Thetford. This house is a well known feature in Little Thetford, and still stands today thanks to continual care and restoration by a chain of owners.
Owen enlisted with the 5th Battalion of the Suffolk Regiment and The Post Office Rifles, but was sadly killed in service in 1917.
After the War in 1920, Laura illegitimately gave birth to a son. Alfred was brought up as a Yarrow but like his mother's late-husband Owen, he was killed serving in the Second World War.
Laura died in 1972 and was buried alone in Little Thetford cemetery.
Life Events
Born
26th November 1885

at

Barway

,

Cambridgeshire

,

England

.
Baptised
24th September 1905, aged 20 years, with sister Ethel Dewsbury and nephew

William Henry Howard

, at St. George's Church, Little Thetford, Cambridgeshire, England.
Married
Children:
Arthur Owen Yarrow

(1905-1970) married

Violet May Day

(1907-1973)

Laura Yarrow

(1908-1909)

Ida Mary Yarrow

(1912-1999) married

George William Bent

(1911-1966)
Census and Residence
1891: 5yrs,

Front Street

,

Little Thetford

,

Cambridgeshire

,

England

.
1901: 15yrs,

Glen Tor Villa

,

Friern Barnet

,

Middlesex

,

England

.
1911: 25yrs,

Round House

,

Little Thetford

,

Cambridgeshire

,

England

.
Employment
1901:

General Servant

for

Richard H. Beecher (Accountant)
Death
31st December 1972

, aged 87yrs.
Burial
January 1973, at Little Thetford Cemetery, Little Thetford, Cambridgeshire, England.