Coldmoor Farm
Coldmoor Farm is located in the fertile fenland towards the northern edge of the parish of Witchford - a village that sits about 3 miles West of the city of Ely, in the county of Cambridgeshire, United Kingdom.
Whilst the origins of the farm's name are unclear, it is named from around 1825 in early editions of Ordinance Survey maps.
This remote farmstead was briefly home to my Freeman family during the census of June 1841, when my 27 year old Great x4 Grandfather, John Freeman was noted as living here with his wife Mary and their three infant children. At the time of this census, he is noted as a Agricultural Labourer, and no doubt worked the land surrounding the farm.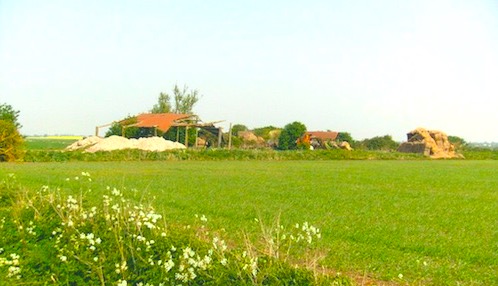 As the name suggests, it is surrounded by open fields, and was probably quite a nice place to live during the summer - with views towards Ely Cathedral in the East, but it must have been unforgivingly bleak and bitterly cold during the winters.
Unsurprisingly, my Freeman ancestors stayed only for one census before moving away to the near-by hamlet of Wardy Hill by 1851. By 1861, John and his family had moved to Coldmoor Farm's neighbour - Frog's Abbey Farm, on the edge of the neighbouring village of Coveney.
Today, the farm, which is on private land, is no longer inhabited. Whilst the site appears to still be in use, all that remains are a few tired looking out-buildings which can be seen from a public footpath that runs along the south of the site.