Adelaide

Bishop


(1877-1965)

Adelaide Bishop (later Adelaide Yarrow) was the fourteenth of the eighteen children of James Simpson Bishop and his wife Ann Bowers of Wicken and Burwell in Cambridgeshire, England.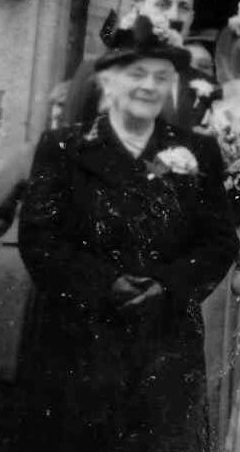 When Adelaide's birth was registered, her mother registered her as Ada Bishop, but by the time she was baptised, she has become Adelaide. Adelaide would go on to name her second daughter Ada.
Adelaide was just twelve years old when her mother died, leaving the family of fifteen children (the youngest being no more than two years old) in the charge of her widowed father James, a labourer, and her childless aunt Sarah Bowers and her husband George Farby.
Adelaide worked as an infant's Monitor Teacher at Little Thetford and taught many of the children important home-making handicrafts like sewing, and made a number of clothes for the children too. Adelaide attended school herself, and is noted as a 'scholar' on the 1881 census when she was just 4 years old.
She married James Yarrow, a railway worker at Little Thetford and the couple went on to have fifteen known children.
The family moved in 1899 to Wilburton, and they lived in the Station Cottages where James became Station Master. In the later wartime years, the family moved to Wilburton old Vicarage - The Lodge - which still exists today with its stunning views across the fenland.
Life Events
Born
10th March 1877

at

Priory

,

Burwell

,

Cambridgeshire

,

England

.
Baptised
2nd July 1882 at St. Laurence's Church, Wicken, Cambridgeshire, England.
Married
Children
Adelaide Mary Yarrow

(1897-1984) married

Leonard Frederick Plumb

(1895-1953) and later to

Samuel Spencer Ambrose

(1894-1961).

Ada Yarrow

(1898-1977) married

John Lavender Haylock

(1900-1974)

Jessie Yarrow

(1900-1997) married

Leslie Robert Ling

(1906-1996)

George James Yarrow

(1901)

George Owen Yarrow

(1903-1996) married

Olive Maud Palmer

(1900-1977)

Albert James Yarrow

(1905-1983)

John Yarrow

(1908-1988) married

Dorothy Amelia Butcher

(1914-1999)

Frank Yarrow

(1909-2010) married

Gladys Lythell

(1913-1992)

Agnes Yarrow

(1911-2013) married

Jack Langley

(1913-1988)

William Maurice Yarrow

(1913-2001) married

Ethel Stott

Catherine Yarrow

(1914-2012) married

Jesse Langley

(1916-1991)

Winifred Joan Yarrow

(1919-2006)
Census and Residence
1881: 4yrs,

High Street

,

Wicken

,

Cambridgeshire

,

England

.
1891: 14yrs,

Front Street

,

Little Thetford

,

Cambridgeshire

,

England

.
1901: 24yrs,

The Vineyards

,

Little Thetford

,

Cambridgeshire

,

England

.
1911: 34yrs,

Railway Cottages

,

Station Road

,

Wilburton

,

Cambridgeshire

,

England

.
Employment
1891:

Monitor Teacher

1918:

Stationwoman

at

Wilburton Station

for

Great Eastern Railway (GER)
Death
8th September 1965

at

Wilburton

,

Cambridgeshire

,

England

, aged 88yrs.
Burial
September 1965 at Wilburton Cemetery, Wilburton, Cambridgeshire, England, with her husband James.