Grace Violet

Moden


(1902-1958)

Grace Violet Moden was the sixth of the seven children of Edward Moden and his wife Mary Ann Cross of Ely, Cambridgeshire, England.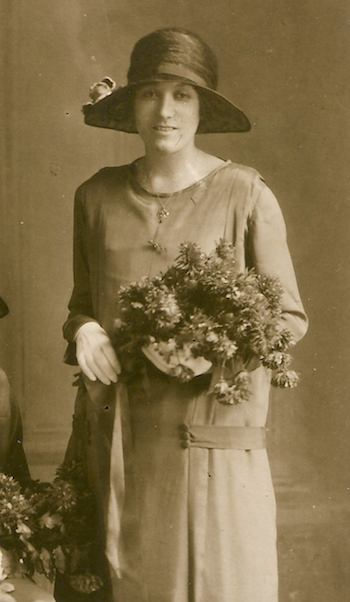 Grace worked as a shopkeeper for many years in her mother's shop on the corner of Barton Road and Cambridge Road, Ely, Cambridgeshire.
Whilst Grace did not marry, nor have any children, she did walk up the aisle of St. Mary's Church, Ely, when she was bridesmaid to her sister Susan Jane Moden in 1925, when she married Ernest Edward Thomas Dewey.
Upon her mother's death in 1953, the shop transferred ownership to Grace. She ran it until her death in 1958, after which her estate passed to her brother George Edward Moden. The shop left the Moden family, and eventually closed in the 1980s. Today, it is a private house.
Grace died just four days after her 56th birthday, and just over five years after her mother's death.
Life Events
Born:
6th January 1902

at

Ely

,

Cambridgeshire

,

England

.
Census and Residence
1911: 9yrs,

Cambridge Road

,

Ely

,

Cambridgeshire

,

England

.
Employment
Death
10th January 1958

at

40 Barton Road

,

Ely

,

Cambridgeshire

,

England

, aged 56 years.
Burial
14th January 1958 at Grave CB2.141 with her mother at Ely City Cemetery, Ely, Cambridgeshire, England.