The
Yarrow

family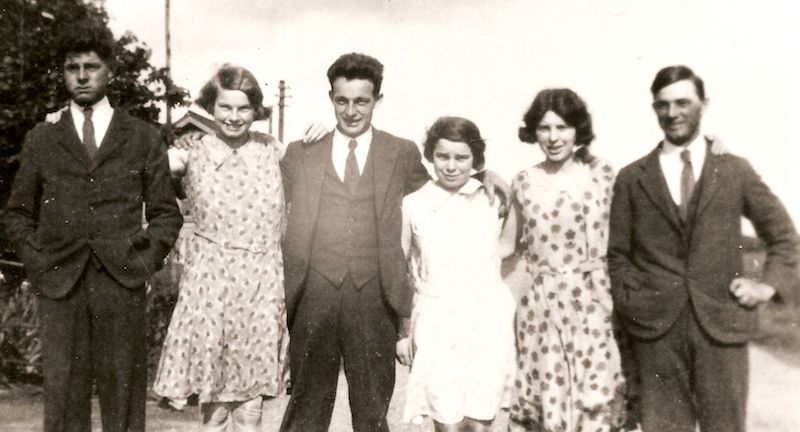 The Yarrow family in Cambridgeshire
The Yarrow family research is by far the most in-depth and best documented of all the family names that i have researched since 1996. This has most likely been aided by my Great Grandmother who reached the grand age of 104yrs old and had a great way with words and stories, and could remember so much in the three centuries that she had seen pass by.
She was the third of the eventual 15 children (although she had claimed that there were really 21 children in all) of railwayman James Yarrow and school teacher Adelaide Bishop of Little Thetford (and later of Wilburton) - both villages in the fenland of Cambridgeshire.
I've been very fortunate to know many of my Great Grandmother's siblings - with most getting into their 90s, and 3 made it into their 100s. It would seem that longevity is common in this family, and amongst their cousins.
Sadly, one of the most keen historians was my Great Great Aunt Lois Margaret Yarrow, who passed away in 2003. She supplied me with dozens of photographs, stories, cuttings and letters, all of which I was fortunate to copy and these are now safely stored in my records.
The earliest Yarrow family member that I have been able to trace was my 8x Great Grandparents Willyam Yarrow of Little Thetford and his wife Elizabeth (I don't yet know her maiden name).
The first time that they appear on church records is in 1706 when their daughter, Sarah Yarrow is baptised at Little Thetford.
The Yarrow family go on to have extensive families and become landowners, musicians, farmers, dairymen, publicans, church wardens, postmistresses and many other occupations. My Great Great Grandfather and several of his children worked for the Great Eastern Railway (GER) company at Wilburton and Haddenham Railway Stations during the first half of the 20th century, in a number of roles ranging from porter, signalman, and station master.
The Yarrow surname remains fairly unusual, and this is probably down to the high number of female births in the last 100 years.
There are also Yarrows in the nearby village of Little Downham, and in the city of Ely, but connections to these remain elusive.
Yarrow family in Kent, Merseyside, and India
While 3x Great Grandfather, James Yarrow, stayed in Cambridgeshire, his brothers William and Albert travelled in opposite directions with William settling up North in Merseyside, and Albert heading South-East to Kent. James' oldest son, John William Yarrow also travelled South-East, taking the Yarrow name down to Dover, where the family continues to live today.
My 3x Great Grandfather's older half-brother, Thomas Yarrow signed up to serve in the Indian Mutiny during the mid-1850s. This saw him leave behind a life of agriculture and beer selling within his family, and head off to Allahabad in Uttar Pradesh, North-East India to fight. He rose through the ranks in two different regiments from Private to Corporal to Sergeant.
Whilst in service, he married an Irish widow named Catherine O'Keefe (née Lambert) whose late-husband had served in India too. The couple had 7 children (5 whilst in India, 2 in England) but only 2 (at most) survived into adulthood. Catherine's earlier O'Keefe children - Catherine and Margaret also survived.
After 20 years service, Thomas left and the family returned to England in about 1875. However, his wife Catherine died in 1888, and eventually widowed Thomas re-married - his new wife being about 40 years younger than him. Despite this, she appears to have pre-deceased him by 7 years in 1907, aged just 35yrs old.
Yarrow family connections
The Yarrow family are directly linked to many of my ancestral families including: