The
Cross

family of

Cambridgeshire
Cross of Ely
My Cross family research has been one of the most wide-spread and biggest family groups in my tree. However, it's in the fenland city of Ely, Cambridgeshire, England. where the earliest origins appear, and remain, for generations.
Whilst the Cross surname has almost no variants (occasionally one 's', occasionally an 'e' on the end), the sheer volume of people in Ely parish registers and censuses with the surname, with use of only a handful of first names, has made it quite a puzzling challenge at times.
My research was aided significantly by the dedicated and hard work of the late Pamela McClymont who seemingly single-handedly drew trees and charts for those who requested her help through her Cross One Name Study. Her extensive research, and the books that she self-published, have proven to be a real asset to my research and that of others since her death.
My connection with the Cross family is via my 2x Great Grandmother, Mary Ann Cross, a shop keeper of Ely, Cambridgeshire, England. Just a short walk from her home on the corner of Barton Road and Cambridge Road, was The Eagle and Lamb (now demolished) - a public house that was run for a while towards the end of the 19th century by her parents George Cross and his wife Sabina Steadman Taylor.
Earliest Cross Ancestor
The earliest known ancestor that I've managed to identify was my 9x Great Grandparents, Thomas Cross and his wife Ann. They first appear in Ely baptism registers in 1669 when they take their daughter Elizabeth to be christened.
They follow her with six more children, with their youngest - Charles Cross (and my 8x Great Grandfather) being christened in 1679.
Fast-forward a couple of centuries, and you've got countless descendants from their large families - some reaching as many as 17 children! Many of these remain in Ely and the surrounding area providing a complicated genealogy puzzle.
Bakeries, Confectioners, Tea Rooms and Museums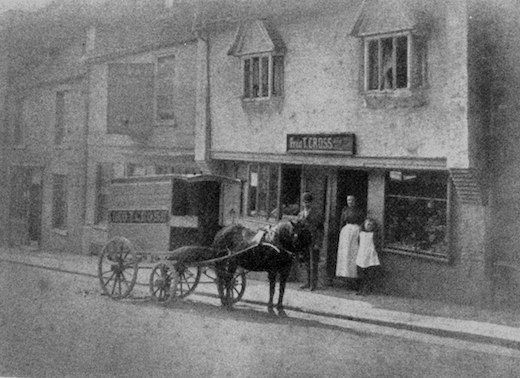 Part of my Cross family (although not direct ancestors) started up a business on Forehill, Ely, when Frederick Thompson Cross opened a bakery and confectionery shop.
It wasn't long before this became very successful - giving Ely its first tea room. His son took it over in the 1910s, and by the 1930's adverts appeared in local newspapers tempting readers with such treats as 'Ginger Sponge Cake - Baked to a nice golden colour and studded with Sultanas and Almonds.' for 8d (8 pence), and you could order birthday cakes and other treats.
The tea room was added to as a space to show off local fossils and finds from the area including those unearthed by the digging of Roswell Pits nearby. This collection would eventually go on to form an early part of the founding of The Ely Museum.
Visitors to the museum today can see some of these artefacts, as well as visit the Vernon Cross room, and see information about the life of Frederick Vernon Cross.
In 1972, just a few years before his death, Vernon (as he preferred to be called), published his Crosswords: An Autobiography, detailing his early life in Ely through to his later years.
From about 1891 and roughly the same time as the Cross' bakery business is becoming established in Ely, their cousins have set up their own bakery and confectionery business in Victoria Street in nearby Littleport. This one also finds success under the ownership of Jabez Cross and later his son Horace Kirby Cross, before the latter becomes Chairman of Littleport Parish Council in the 1950s.
The Cross family emigrate to Australia
Of all of the families that I have researched, the Cross family members are the ones who make the long and dangerous journey over to Australia the most.
From the 1850's onwards they can be found emigrating, perhaps responding to the widespread advertising and promises of a better life that lured so many others to this far-away land during that period. This would have been compounded by the want to escape hard, cold, bitter fenland winters back in the fields surrounding Ely.
Letters to home were important, and a collection of these by Julia Cross (née Thurlow), compiled and published by Ely Museum as book 'A New Life In Australia: Letters from Julia Cross to her mother in Ely 1855-1872', make for an interesting read. They give a fascinating insight into life in Goodna, Queensland, Australia, and how much their former Ely home was greatly missed. It is full of gossip for those back home in England, and memories of loved ones and favourite places, and paint a nice picture of daily life missed in Ely.
Cross family connections
The Cross family are linked to a number of my ancestral families including: